As for our activities in Cambodia, we have not yet received a lot of travelers in Vietnam. It is still not enough to answer to as many project applications from local communities as in Laos.
However, since 2011, we helped twice the Department for French language Studies of Hai Duong province, near Hanoi, on the road to Haiphong.
In 2011, they received approximately $ 2,200 to buy 4 lap top computers, study books, dictionaries and audio-visual equipment and help 4 different high schools. In 2014, they made a request again and received $ 900 to buy a computer for their administrative center and additional study books and audiovisual material for another high school.
SOME PROJECTS: THEIR BUDGET AND COMPLETION DATE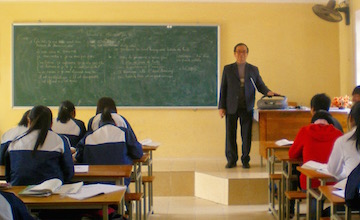 Hai Duong province, situated between the capital city of Hanoi and the port of Haiphong, is bound to develop with foreign investors. She benefited from the solidarity tourism Solidarity Fund to improve learning and teaching of French and English for five high schools in the province.