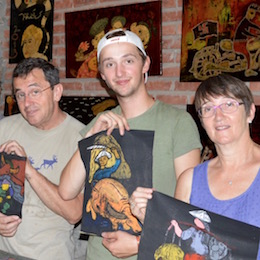 Cecile, Pierre and Michel
August 2022 in Vietnam
France, September 2022
A trip from the South to the North of Vietnam, in the heart of this beautiful and endearing country and its history.
Each stop lets us discover a bit more the Vietnamese people, their daily lives, their customs, their sensitivity.
Each meal surprises us a bit more and sharpens our taste buds. Each meal is so similar in taste and diversity to this resilient and welcoming people.
Their smiles shown from the first hello.
The guides are even more than that, becoming, after more and more kilometers, encounters and places, friends that make us love this fascinating country.
Not to mention of course our honorable Robert, who since our trip to Laos in 2007, is this friend of Asia who lets us live such beautiful adventures.