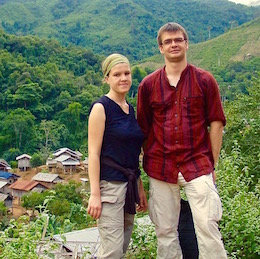 Anne and Romain
November 2012 in Laos
France, November 2014
We chose, for our first trip outside Europe, Laos. We wanted to experience this culture but without a classic organized trip. Tourism for solidarity has enabled us to exchange ideas, to discover the country and its culture, without shallow-mind.
It was a travel rich in exchanges and discoveries. Here are a few moments of this journey we wish to share:
Our stay in a K'mu village in Oudomxay province. After a short hike on the edges of rice fields and on the slopes of mountainous forests, we were warmly welcomed by the villagers with whom we have spent a memorable evening that ended with exchanges around our cultural differences. Thanks to the translator we were able to communicate more easily. Sample Questions: What do you do for wedding ceremonies in France? Do you kill an ox or a pig? Who pays for the wedding, the groom's family or the bride? What is the travel time to go to France … We also explain our respective work occupation (we were a group of 8 travelers).
Tha Pene village: a day in the wilderness, with villagers, to pick vegetables from the gardens, the plants from the forest. While women collect plants from the rivers, men build a table, fish and chat around a glass of rice wine. We cooked together, a great day which ended at a wedding in the village.
A nice ride in the 4000 Islands region, discovering the gardens on the banks, meetings with the villagers and introduction to fishing with a hawk.
And the last memory that will stay in our heads for ever: a magic moments spent with children from Oudomsay to fly kites made of plastic bags.