We have just started our activities in Myanmar. In 2015, we received only 2 groups, a total of 15 people, and already the French tourism association for solidarity "Vision du Monde" joined us to make a first project with a community in the mountains near Lake Inle .
The Burmese people seem to be helping each other well, they involve themselves a lot in the project. This first work gives us great hope for the future. More people of Myanmar will soon discover solidarity tourism.
SOME PROJECTS: THEIR BUDGET AND COMPLETION DATE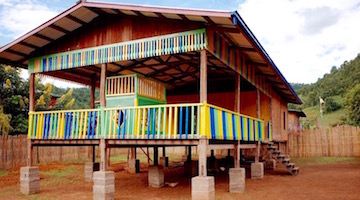 Hti Tha Kawk village has the project to build a pre school. It is a village of 115 families or 750 persons. All the inhabitants are of the Pa -O ethnic group of Myanmar. The village is located in the mountains east of Inle Lake. There are, this year, 85 children aged from 4 to 5 years.