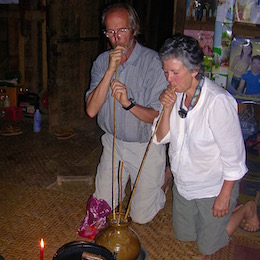 Louis-Michel and Marie-Elisabeth
March 2011 in Laos
France- October 2013
We were in Laos in March 2011 and wanted to do the most authentic travel as possible.
That is why we did not contact an agency in France, but directly on site: Solidarasia perfectly met our expectations. And the villages of the north too, since we wanted to discover, even quickly, the lives of villagers, far from the tourist flow of Luang Prabang.
Video amateur, I took the opportunity to edit this little story, filmed as an unpretentious documentary. A way to remember this trip, which was, during the days spent by the inhabitants, with difficult material conditions. But we knew that by going there … The second film was totally unexpected: we had heard about lumberjacks-divers, but without really knowing who they were.